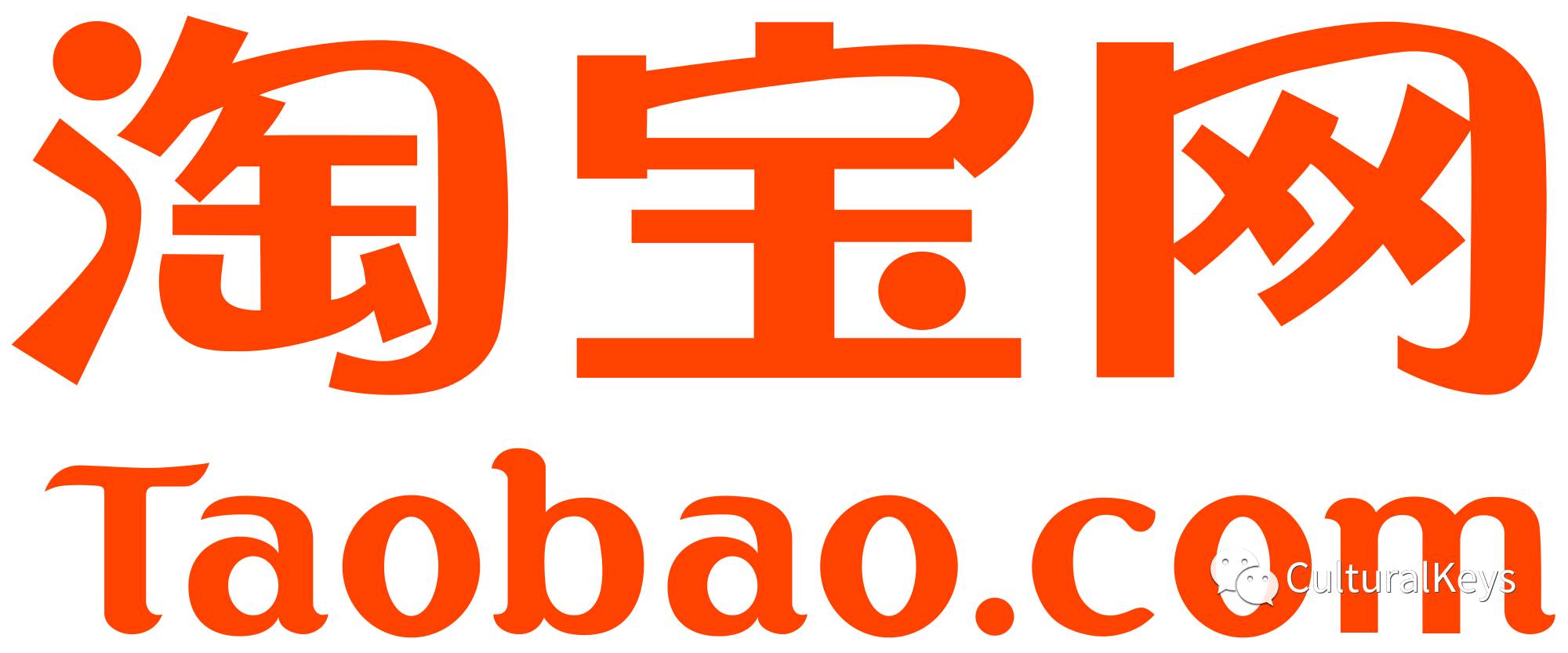 A virtual Aladdin's cave of goodies!
Back home in the UK, when we needed to get something delivered to our door as simply and easily as possible, we always relied on Amazon. When living in the States, Amazon was still an option, but eBay was then our preferred choice, simply because of the range of goods available and the comparatively big savings.
Of course, neither eBay nor Amazon can compare to what China has on offer through its home grown offering; Taobao is the #1 go-to option for practically anything and everything in China. Dog food, vegetarian sausages, a Noisy-Neighbor Revenge Machine (who doesn't need that sometimes?!) Taobao pretty much has it all.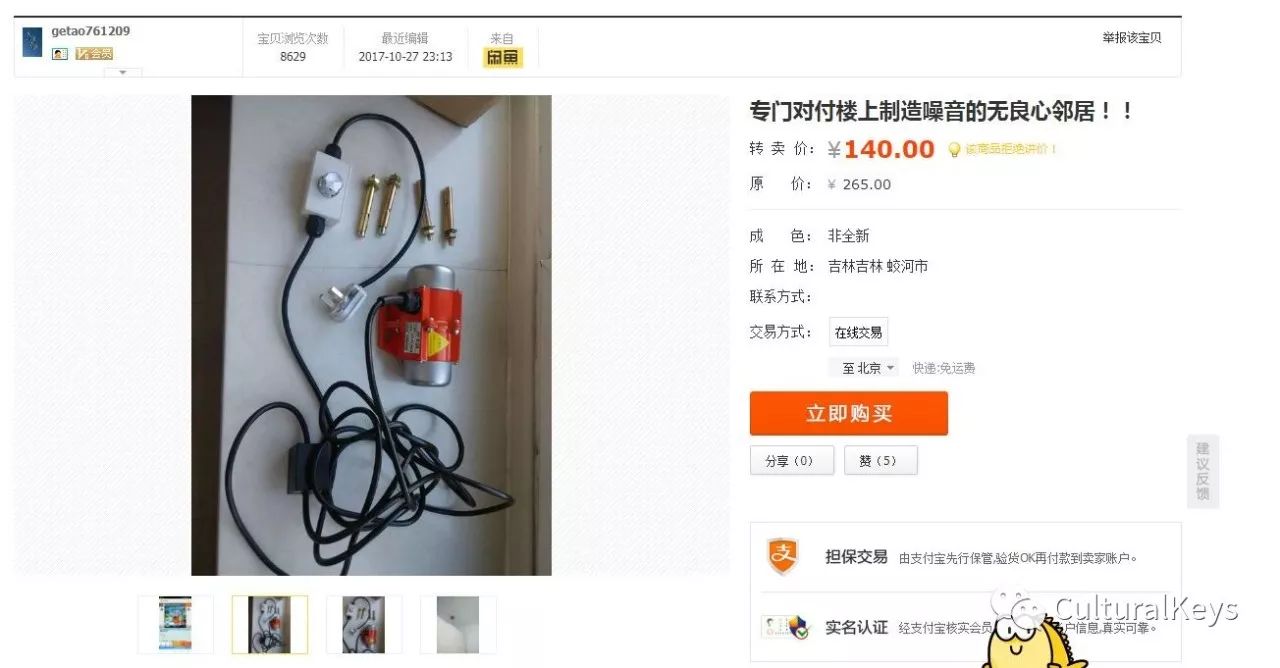 Revenge at last!
It's easy to browse Taobao using a translation program.  But of course, as great as Taobao is, it does have a few caveats. You need to have a valid bank card attached to your Taobao account, and secondly, you need to understand enough to be able to communicate with sellers, order what you want and deal with the delivery service.
And not everyone has the time to deal with all this, or a Chinese friend that they can ask to do it for them (as is often the first suggestion made by anyone when you ask "How can I … in China?").
But Cultural Keys believes that ordering from Taobao should be quick and easy for everyone. That's why we have started our Taobao Ordering Service, to help you get what you need, as quickly and easily as possible!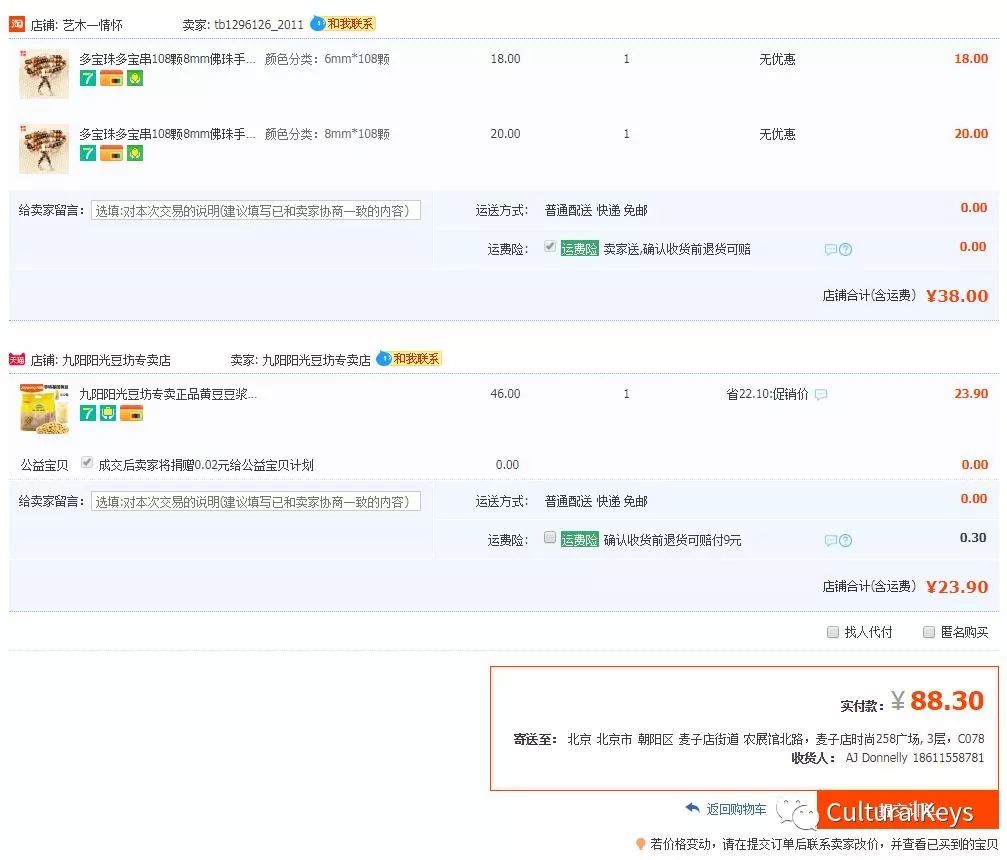 Let us make Taobao simple for you!

We've made the process as simple as possible for you to get what you need as quickly as possible.
1) Follow our Offical WeChat Account by searching for CulturalKeys on WeChat and send us a message with the link to the item on Taobao you'd like to order, together with your WeChat ID.
2) One of our team members will add you on WeChat, and confirm your order and total cost with you. You can then transfer the money to CK, either via WeChat wallet or Alipay.
3) Once we have received payment from you, we then place the order, and have it shipped to our store at Maizidian (at the west gate of Chaoyang Park).  This saves you the trouble of dealing with the delivery service if you don't speak Chinese.
4) We'll keep you updated on the status of your order, and let you know once it arrives, so you can come by and pick it up at your convenience.
And it's as easy as that!
Fees and Notes
1) Orders will be charged at Taobao listed price + delivery fee to our Beijing store + 30 RMB for the first item ordered +5 RMB for each additional item per order.
2) Maximum order total (including delivery fee) is 500RMB. For orders above 500RMB, please visit us in store to discuss.
3) All orders will be delivered to our store. If you wish for an order to be delivered elsewhere, please visit us in store to discuss.
4) CK reserves the right to decline orders without explanation (for example, if the item is dangerous or illegal).
5) Payment will be required in full before orders are placed, either via WeChat Wallet or Alipay. If you wish to pay in cash, please visit our store prior to ordering.
6) Neither CK nor its staff will be held responsible for delivery of the incorrect item or any damage to your goods. Deliveries will be held at our store, unopened, until you collect.
7) Taobao sellers are usually trustworthy and will try to help customers, but not always. You use this service at your own risk. In the event of a complaint or refund being necessary, the customer must let us know within 48 hours of receiving the goods. We will do our best to resolve the issue for you but cannot guarantee to be able to resolve it according to your requirements. Refunds to customers will only be given once refunds are received from sellers, according to the individual seller's terms of service.
8) If the item is out of stock or can't be fulfilled, you'll receive a full refund within 24 hours.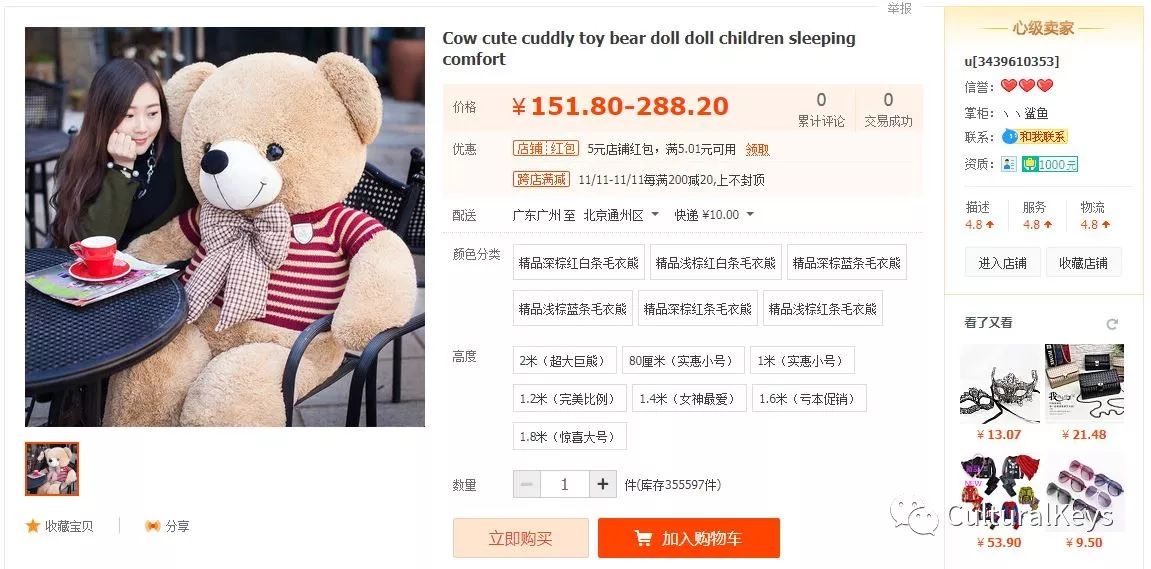 Cuddly toys!
So what are you waiting for? Jump on Taobao right now, and find the items you've been dreaming of getting. Then let us know, and we'll help you make your shopping dreams come true!
Questions? Simply follow our account and ask, or email us at [email protected] We'd love to hear from you and help you in any way we can!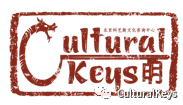 Enjoy this post? Then feel free to Share and Comment below!

We'd love to hear from you!
For more details about the information, education, products and services we offer, follow us on WeChat and social media to stay up to date with all the latest news and events from the CK Team!